"In the middle of difficulty lies opportunity ."
~ Albert Einstein~
I find that often when I am right smack in the midst of some sort of difficulty, I feel pulled in different directions. The negative and positive forces in my life play a game of tug-o-war within my mind and heart. And I find that I am strung out, pulled apart and torn. It can be so easy to just give up. Be it in small difficulties or bigger ones, differenct voices constantly call out to me. The evil one, of course, sows negativity in my mind, telling me that I cannot do it. The world sometimes conspire to barrage me with messages telling me to look after myself alone. My own human fraility calls out to me saying that it would be best to just give up, give in or give out - whatever is easiest. But then, there is also that small voice within that I can choose to listen to. It is the voice of the Spirit, the voice of Truth. Amidst any difficulty, there lies the opportunity to listen to that voice - the voice that can bring you peace. It is not very easy to find and listen to that voice when everything and everyone else seems to be screaming. But if you just listen intently, you will hear HIM.
With that said, I'd like to share this scrapbook page I made with the chorus from the song "Voice of Truth" by Casting Crown.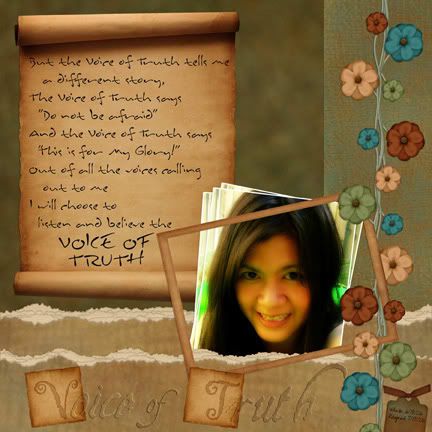 This song has been playing in my mind for a while now. And like I mentioned in an earlier post, it's a song I've been singing to myself to remind me to listen to that Voice instead of all others. Credits for the LO can be found
here
Here are the lyrics of the whole song.
Oh what I would do to have
The kind of faith it takes to climb out of this boat I'm in
Onto the crashing waves

To step out of my comfort zone
To the realm of the unknown where Jesus is
And He's holding out his hand

But the waves are calling out my name and they laugh at me
Reminding me of all the times I've tried before and failed
The waves they keep on telling me
Time and time again. 'Boy, you'll never win!'
"You'll never win"

But the voice of truth tells me a different story
And the voice of truth says "Do not be afraid!"
And the voice of truth says "This is for My glory"
Out of all the voices calling out to me
I will choose to listen and believe the voice of truth

Oh what I would do to have
The kind of strength it takes to stand before a giant
With just a Sling and a stone
Surrounded by the sound of a thousand warriors
Shaking in their armor
Wishing they'd have had the strength to stand

But the giant's calling out my name and he laughs at me
Reminding me of all the times I've tried before and failed
The giant keeps on telling me
Time and time again "boy, you'll never win!
"You'll never win"

But the stone was just the right size
To put the giant on the ground
And the waves they don't seem so high
From on top of them looking down
I will soar with the wings of eagles
When I stop and listen to the sound of Jesus
Singing over me

I will choose to listen and believe the voice of truth